---
ALL PARTICIPANTS MUST HAVE A WAIVER SIGNED BY THE RESPONSIBLE ADULT
Admission tickets are sold at the Aqua Splash Lake And Beach Store
1 Hour Youth
$12
---
(under 12 yrs)
Recommended for first time users
1 Hour Adult
$17
---
(12 yrs and above)
Recommended for first time users
2 Hours Youth
$22
---
(under 12 yrs)
2 Hours Adult
$30
---
(12 yrs and above)
Family Pass 1 Hour
$50
---
2 Adults, 2 Children
Recommended for first time users
Family Pass 2 Hours
$90
---
2 Adults, 2 Children
Promo Rates: 1 Hour
$12
---
Flat Fee For All Ages
Early Bird Entry (Valid From 11am-12pm) Twilight Entry (Valid From 6pm-7pm)
Group Rates
25% off
---
Flat Fee
25% off admission for groups of 8+ pax
Contact us to find out more and pre-book your groups
---
Please Note:
Operations are weather dependent. Please follow us on Facebook for up to date information to confirm if we are open if weather is not ideal.
Because we are weather dependent and the safety of our patrons is a priority, management reserve the right to close the park – sometimes unexpectedly – if a summer storm moves in or is approaching. Under these circumstances all patrons will EXIT the park and remain on shore until the weather system has passed.
Patrons must be physically fit to use this park.
All participants must be a minimum of 3 Foot 6" in height.
Children 5 years and under currently NOT PERMITTED.
Follow us on Facebook for news on a potential junior park coming 2018!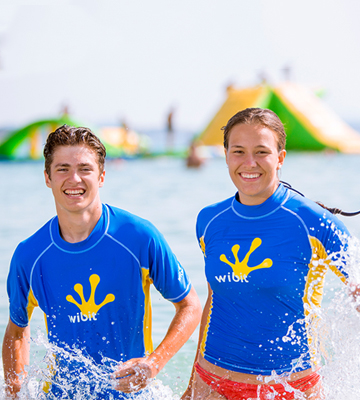 6 – 8yrs Permitted with paying adult
9+ Permitted without adult
Please Note: ALL YOUTH PARTICIPATING WITHOUT AN ADULT MUST PROVIDE A WAIVER SIGNED BY THE RESPONSIBLE ADULT.